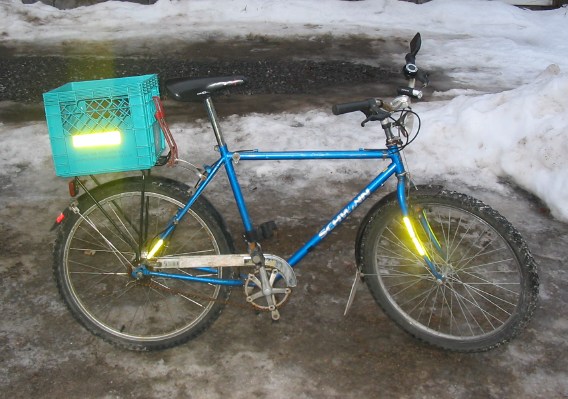 For many years my hybrid bike was my winter machine. But I realized after a while that I needed a bike with a smaller frame and overall compactness to deal with winter road conditions. I found an decent Schwinn mtn. bike frame at the re-Cycles Co-op, and started assembling components. I stayed with the internal gear Sturmey-Archer 3-speed set-up as on the hybrid, though of course had to build a whole new wheel since this frame need a 26". On went a 42-tooth chainring and 20-tooth cog, keeping the gearing on the low side for slushy conditions. A chainguard from an ancient 3-speed was added, along with old but strong cantilever brakes, and a "crap flap" front fender extension. An old BLT headlight powered by a 6-volt battery helps me be seen, and two rear lights (one blinking, one steady) along with some reflective materials aids the visibility factor. It's a no-nonsense bike that served me well for two years, and it got even better when I added studded tires, as the bike's footing felt just that much more steady. Of course, the penalty one pays for studs is increased rolling resistance, but it just adds to the workout, saving me gym fees at the local Y.
But the 3-speed proved troublesome. The first time it was a worn clutch piece, so I learned how to open the thing up and replace that with another (hopefully less worn) one. But that failed over time as well, so I got tired of that, yanked the hub's guts out, and installed the innards from another one. That worked well for a quite a while, but it too acted up. This was odd, because my other 3-speed bikes have not had any such problems. So something had to be done, and a change was made due to two factors. The first was that I had gotten tired of only having three widely-spaced gears when towing my cargo trailer, especially through slushy conditions that can really slow one down. The second was the arrival at the bike co-op of a Shimano Nexus 7-speed internal gear hub, complete with roller (drum) brake. This came to the co-op (along with many other things) from a local bike shop that was going out of business, and it sat in the bin for a time while I wondered what might be wrong with it (otherwise, why had it been lying in the basement of the other shop?).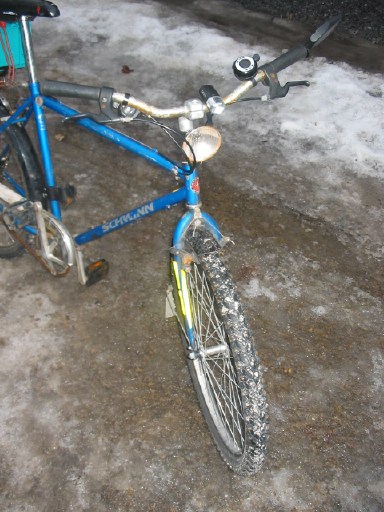 Front view, showing old 6-volt BLT headlight and studded tire (if you squint...)
So after getting annoyed on my last trailer run I took the hub to Peter at McCrank's Cycles, since he has taken apart just about every internal gear hub in existence. He reported that aside from having a ruined bearing set on one side it otherwise seemed fine. So with a leap of faith I ordered the shifter and other bits to make the thing work (thanks to Carey at Urbane Cycles in Toronto for sending me his very last thumbshifter for this unit, as I do not like gripshifts in general, especially with padded winter gloves).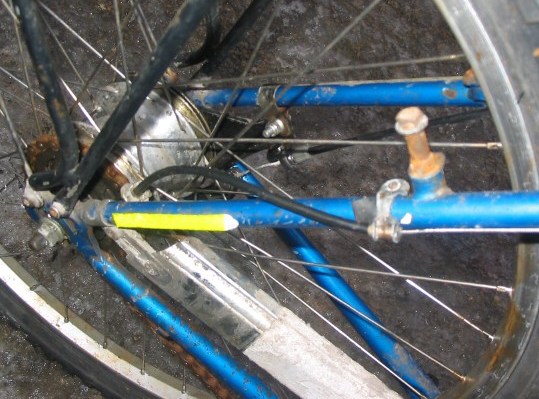 The 7-speed, showing cable routing for shifting and roller brake. Both "arms" are pointing up along the seatstays because I wanted to rout their cables along the top tube, not the downtube and chainstay where they'd collect slush and salty grit.
The parts arrived, I built the wheel up (still not something that comes easliy to me) with Peter's guidance, and then the bike's rear axle spacing had to be widened from 110mm to 130mm to accomodate it. This was done with a block of 2x4 cut just a bit narrower than the dropouts, and inserting it between the chainstays. Gently tapping the block towards the seatpost slowly widened the frame to where I needed it, and it came out quite straight after checking the alignment (this frame was originally narrowed from 126 to 110 for the 3-speed, and now after bending it back out again I think I had better leave it alone!). After some fiddling around I was able to get the gears and drum brake working properly (thanks to Jody for some of the Official Shimano Brake Grease).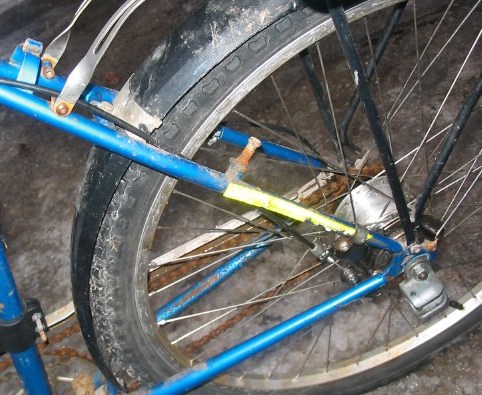 Brake cable routing, as well as brake arm clamp and trailer hitch receiver fitting. (and yes, I have since cleaned and lubed the chain!)
I've been on it for a while now, and the extra gears have indeed been very useful. I retained the 42-tooth chainring, and kept the hub's 23-tooth cog (the largest that will fit. More than that and it would interfere with the housing stop-arm for the shift cable, so I'd have to find a longer one of those somewhere). Again, it's all geared to the low end for trailer-towing through slushy conditions, with just enough top end to zoom along dry pavement. The roller brake is not as powerful as most other brakes, but it is unaffected by moisture and hence very consistent and predictable, which is welcome n bad weather. Since one wants to keep the front wheel rolling in slippery conditions I tend to use the rear brake (sometimes exclusively) far more often than I do in warmer weather. I found that it does need a lot of cable travel, even when adjusted to the edge of drag, so just after the photos were taken I switched its lever from canti to V-brake, which made a big improvement.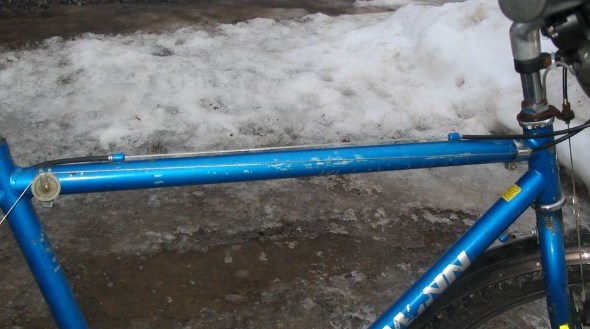 Shift cable routing. Cables running through housings can seize up when moisture gets in and freezes, so it's best to run as much bare cable as possible. I kept the old 3-speed fittings for this (housing stop near headtube, and cable roller guide near seat).
The rear of the bike sports two red LED lights. One stays in steady mode, which I've read helps motorists fix your position, and one blinking, to get their attention and tell them it's a bike. The extra reflective stuff is all part of the philosophy that one can't be too visible at night. Since these photos were taken I have added a strip of coroplast (corrugated plastic) to the bottom of the rear fender to keep spray off the front of the trailer.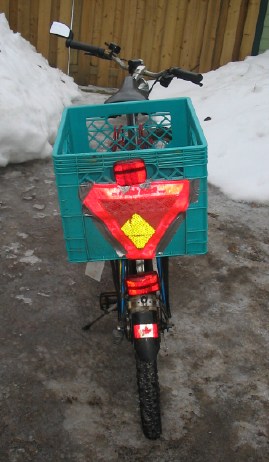 Dorky, but effective...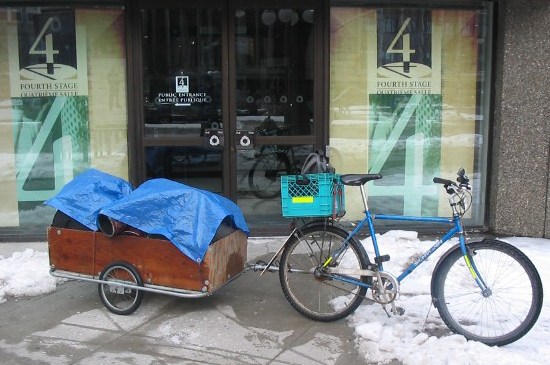 Outside the stage door of the National Arts Centre's "Fourth Stage". Since the cargo trike hibernates for the winter I used the big trailer to carry my small jazz drumkit, and a few hand drums to the evening's gig. (While my friend Bridget owns the trailer, she does not cycle in the winter, and so is letting me borrow it for the season until I build one for myself.)
Fellow re-Cycles volunteer Mike Bowler has a good page of winter cycling tips.