With cowbike gone, I needed another basic bike to get me across town. My various 3-speeds can do the job, but they aren't really the fastest vehicles on earth, so a skinny-tire road bike is the way to go. I still prefer my Linear for covering distances, but sometimes there are places where I don't want to leave it locked up unattended for hours. So, another bike had to be created...
I had not intended to have another bike with an animal theme, but at the re-Cycles bike co-op I found an old Raleigh Gran Prix in yellow with black accents. The 25" frame was a hair too big for me, but it got me thinking about a bee bike with the yellow / black motif. So I found another old Raleigh frame and built it up. The typical 52/40 double chainring makes for a higher top gear than I need for around-town cycling, and I need lower gears for pulling my utility trailer, so on went a 48/36 from an old triple I had lying around.
The bike sports Suntour shifters and derailers, and 700C alloy wheels that first had a 5-speed Suntour 14-28 freewheel (shown in derailer photo below). But to get the really low gears I swapped in a Suntour 6-speed 14-34 freewheel. This makes for rather large steps between gears, but I can usually find the one I want in connection with the double up front. I used Sheldon Brown's online gear calculator to make sure I had some decent spacing between gears without much overlap. And while there is an exact duplicate in the middle, the other 11 gears seem to be spaced just right for me.
The bee theme was accomplished using both black and yellow electrical tape. Tedious and time-consuming to put on? Well, yes, but it was easier than paint. As I've learned from previous experience, one is either going to sandblast the frame and spend $$$ repainting it with the right stuff, or you use the cheap spray-can kind, which scratches easily and never stands up to regular bike abuse. So if you need to spiff up your bike, stay the Tremclad and find some coloured vinyl tape!
The rear rack is even black with yellow accents, though those are covered by the rear trunk (which came all the way from Israel courtesy of my brother Mike). I cut down an alloy drop bar to turn it into a cow-horn courier style bar, and it seems to work well (cow horns on a bee bike?). I usually like to re-use stuff whenever possible, but this time I splurged and bought some Shimano handlebar tape. It is a mix of rubber and cork with gel inside! Quite decadent and comfy for my well-used hands...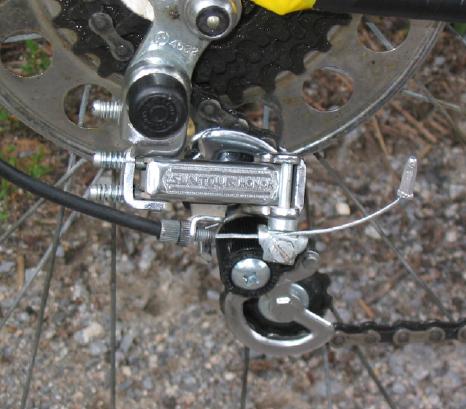 One very immaculate 30+ year-old Suntour Honor derailer. Until I put it on this bike I don't think it had ever been used! I found it amongst many old and weathered derailers in a bin at the bike co-op.