This one was another bike that had been donated to the re-Cycles bike co-op (where I volunteer). The fellow who had dropped it off said it came from a house that he was renovating for someone. The bike was found in the garage, and its little old lady owner had passed away. The bike is completely original, save for the seat, and it still has its registration tags from back in the 70's. The forks are bent back a bit, indicating some sort of frontal hit, so I'll see if I can pull them back into line again. The seat shown was also given to me by the donor and I think it's older than the bike, as underneath its tattered leather cover looks to be horse-hair padding! Until I decide what to do with this seat I have covered it with a scrap of fleece affixed with duct tape.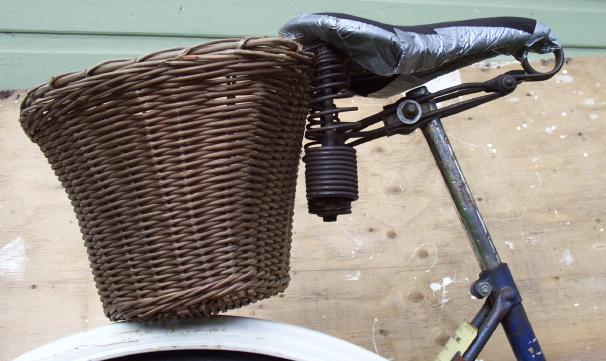 (And yes, I know that the basket usually goes on the front...)

The headtube badge reads "Cyco" (which is kinda funny, since there's a bike shop here in town with that name), but it also says "Weston, Ontario" which is where the big CCM plant used to be, so I guess it's safe to presume that the Cyco name was a store brand or similar. The bike is definitely in need of an overhaul, as it rides a bit harshly. The old Dunlop tires don't help, as they are pretty hard, and in general the bearings don't roll as nicely as they should. So as it is right now the bike provides a good workout! (I think its aboriginal name would translate as "Faster Than Walking".)
Oh, and for those interested in finding out the age of old CCM machines, Warren from Winnipeg kindly sent me a list of serial numbers.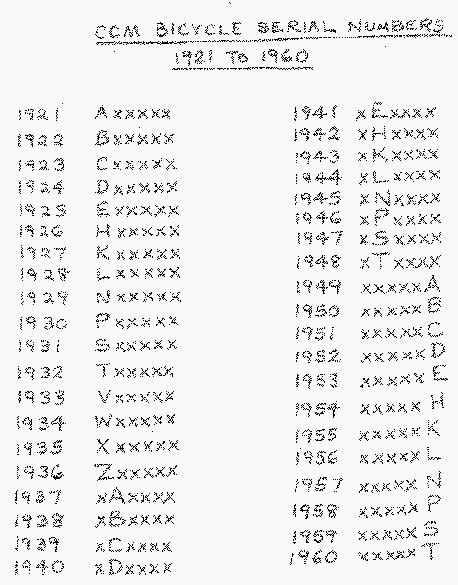 Note: In July 2006 I donated this bike back the bike co-op, but will leave this page up for interest's sake, as well as the above serial number chart.